All of us have experienced caregiving from parents or guardians. Many of us have cared for elderly or disabled relatives, or work in jobs that provide care to the m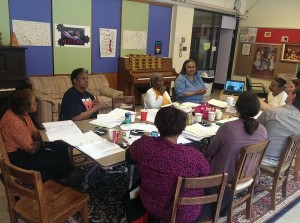 ost vulnerable members of society.
The Caregiver Circle Project invites people with caregiving experience into community change efforts so that the value of its work becomes properly recognized and supported by all.
With direction from  lead organizer, Pat Youngblood, circles of about 10 people meet for group sessions to share stories, challenges, and solutions to obstacles caregivers face.
Schedule
Women's Support Group
Peaslee Neighborhood Center
215 E. 14th Street, Cincinnati, OH 45202
(Last Wednesday of every month)
Next meeting: March 29th 11 a.m.-12 p.m.
Upcoming Caregiver Circles
TBA
 The Caregiver Circle Project is created in partnership with

For more information on the Caregiver Circle Project please contact:
Pat Youngblood
at (513)305-7095
or
Jenn Arens
 at (513)621-5514
Additional support came from the Community Leaders Training Institute of CCTST.