COVID-19 update:
We miss seeing our piano students for in-person lessons, but encourage them to keep practicing. Click here to find virtual lessons and other materials to help your skills stay sharp!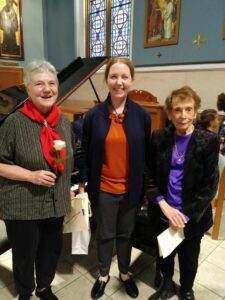 Thanks to the generosity of the Keyboard Club of Cincinnati and the Matinee Musicale Endowment Fund, Peaslee is able to offer piano lessons at greatly reduced cost–as little as $4 per week. Removing the economic barriers to access to quality musical education opens up the proven benefits of this activity to all.
Peaslee Neighborhood Center offers piano lessons to students of all ages and abilities, with a priority given to low-income individuals and families. We provide a music program that enables a student to acquire and develop skills needed to play the piano, to exercise their personal creative expression, enhance their musicianship and build their self-discipline. Our dedicated, caring teachers provide one-on-one instruction and a variety of performance opportunities, from recitals to concerts at local nursing homes.
Click here for more program details. Contact program coordinator Rebecca Smithorn at (513) 621-5514 for more information.
Donations of instruments and materials can help support our students in their music learning! We do not typically accept full-size pianos for the center, but we can sometimes connect donors with students in need of a piano.
Peaslee's Piano Program accepts donations of:
– Keyboards (61 keys or more)
– Faber & Faber music books (Piano Adventures, PreTime to BigTime – see pianoadventures.com) – we do not accept other kinds of printed music, as we currently have as much as our space can hold
– Digital metronomes
– Music stands
To donate a piano, keyboard, or other supplies, please complete this form.