Our Mission
Peaslee Neighborhood Center is a peaceful place in Over-The-Rhine
where residents create and engage in participatory education
to foster creative expression, self-determination, and social change.
Our History
It was a dream-filled day when Everlene Leary and Kathleen Prudence, surrounded by community supporters, handed over a check for $209,239.13 to buy the former Peaslee School on December 14th, 1984. The women wanted to keep Peaslee as an educational and cultural resource in Over-the-Rhine. Leary and Prudence were two of the several mothers of children at Peaslee Elementary School when it closed in spring, 1982.  A few years prior to the purchase of Peaslee, a women-led effort, including a federal lawsuit, was waged to save the school.  They lost the skirmish, but turned defeat into victory; they finally had the keys of hope in our hands. Repurposed as a community resource and founded on a participatory education model, Peaslee still focuses on education, engagement and accessibility 32 years later.
Our Work
Peaslee's multifaceted programming focuses on music education, community education, and service learning alongside social advocacy. Our sliding scale piano program offers quality musical education to low-income families, and partnering with Rothenberg Elementary School, our writing circles teach young girls to creatively express themselves and harness the power and agency of their own voice.
Service learning takes many forms at Peaslee, including our partnership with Miami University's Urban Teaching Cohort which connects pre-service teachers with community mentors to provide insight and guidance on the transition into teaching in urban schools. In addition, our Urban Plunges combine education, community service, and reflection into a full day of learning for participants. We place high school students at service placements throughout the neighborhood and facilitate learning and reflection components tailored to the needs of each group.
Peaslee's recent work with youth and other community residents has focused on transparency in community development and commitment to investing in an inclusive community. As our neighborhood rapidly gentrifies, residents in our urban core are standing up, speaking out, developing their own plans for their community, attending public meetings, joining community councils and making a difference. As a space to work together across difference, Peaslee held community dialogues throughout the last year to open conversation about the rapid changes across our community.
Our goal to shape civic infrastructure is one that requires movement building and leadership development, and lasting impact can only be achieved through the inclusion of our community's youth. Our Agents of Change program engages youth ages 11-15 in creative self-expression and community based social change and encourages them to think critically about the world and their personal agency within it. As members of the Keep Our Courts: Do Development Differently Campaign, our youth testified before City Council and created a community video seeking to save their basketball courts and green space from impending development, a campaign which continues.
Peaslee Neighborhood Center is a community-based anchor in the city center that has provided and continues to provide enrichment and educational opportunities for countless children and youth.  We see the lasting impact of our work as parents, who were Peaslee kids bring their children back to our Center to learn, grow, create and be active citizens in their community.
Peaslee History Documentary
Credit: Barb Wolf
Peaslee's Living History
Peaslee is liberated for the people's use.  It was and still is community based and controlled. Sustaining Peaslee in the years since, we have had to learn to integrate new challenges as well as energy, but never forgetting the founding story and what neighborhood people of modest means made possible.
They were clear from our beginning that Peaslee would approach education differently.  We believe in participatory education, valuing each participant's experience as well as using wide-ranging arts as a medium for self-expression.  Neighboring people will always be part of decision making.  Our educational programming empowers folks to claim their beauty, strength and voices, as well as build pride, power and accomplishments.
Peaslee's educational and cultural activism ignites people's creativity and growth; to recover their history and spirit, to work across barriers that divide us through dialogue and service learning.  Lastly, to strengthen community with a capacity to create change that harms no one and benefits us all.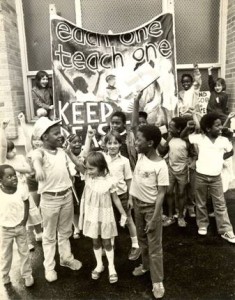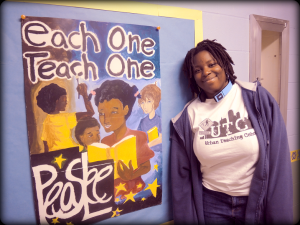 Each program at Peaslee is unique, drawing people of different ages and interests.  All of the programs have a common thread tied to an educational philosophy that encourages participatory learning and draws on the lived experience of the participants.  This educational model helps learners take responsibility for their growth as well as develop a sense of ownership for what is going on.
Peaslee's dream is that neighborhood residents stay involved as participants and leaders.  Peaslee is a peaceful place where people of all cultures are welcomed and work together to see our differences as strengths.
DREAM BIG is what Peaslee's first mural said.  The members of Peaslee have and will continue to dream big.