"The ability to influence for the good of the community doesn't necessarily mean you have a position. It just means you're able to influence for the good of the community."

~Janet Gates
The non-profit world depends on volunteers and small non-profits like Peaslee, depend on them a lot – even if you can only do a 
little.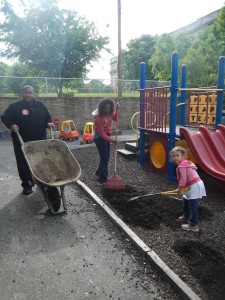 Make a connection with Peaslee today and get engaged in some of our ongoing volunteer opportunities! Contact Jenn Arens:
jennifer.arens@peasleecenter.org
/ (513) 621-5514 Here are some ongoing volunteer opportunities at Peaslee:
Individual Volunteers       
Office and clerical support
Work in garden during the spring and summer
Help host piano recitals
Work at Peaslee special events
Assist with facilities maintenance
Help with yard and grounds maintenance
Special projects – What are your skills, gifts, talents?

Join a Board Committee
Development
Peaslee Presents
Finance
PR/Marketing
Group Volunteers
Help with garden/yard projects
Help with clean-up projects
Help with maintenance projects
Assist at the Over-the-Rhine Community Festival, Second Sunday, Final Friday and other events where Peaslee has a presence